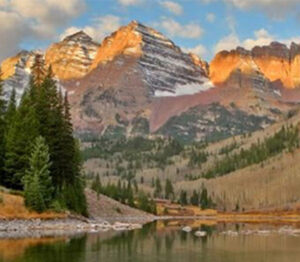 My family and I love The Maroon Bells. This photo was taken by our dear friend, photographer David Knight.
Glacial Valley and Maroon Bells Lake
The Maroon Bells are said to be one of the most photographed locations in all of Colorado, perhaps all of North America! They are two peaks in the Elk Mountains in Colorado and are surrounded by pristine wilderness. Maroon Peak and North Maroon Peak, according to Wikipedia, are "Fourteeners." Maroon Peak stands at 14,156 feet (27th highest peak in Colorado) and North Maroon Peak at 14,014 feet (the 50th highest). This remarkable photo beautifully captures the autumnal side of Maroon Bells and the glacial valley; expressing a full range of harvest colors.
In Spring, Maroon Lake is often flanked by golden wildflowers, which add to the vivid colors. It is an ever-changing feast for the eyes! If you are in the area it is certainly worth a visit!
How to Get to Maroon Bells
While the area has limited accessibility by car, in the summer you can easily catch a bus tour as they run frequently throughout the day. For information about bus service from Aspen or Snowmass you can call the Roaring Fork Transit Authority (RFTA) at 970.925.8484.
David D. Bull, GG
By appointment in Aspen, CO
Call (970) 456-5700
Innovative, artistically original jewelry & accessory
designs of high quality and exceptional value.